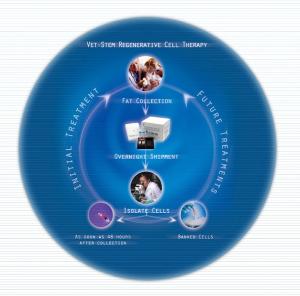 Stem cells are precursor cells that have the potential to develop into bone, cartilage, ligament, or organ tissue.
These cells when used therapeutically can be used for osteoarthritis pain management. Studies have shown that stem cell therapy improved arthritis associated with elbow and hip dysplasia.
Additional diseases show promise for treatment diseases, liver disease, heart disease, kidney disease, and neurological disorders.
To obtain your dogs stem cells, a surgical procedure is performed that collects 1-2 tablespoons of fat. This fat is then processed by Vet-Stem and returned within 48 hours for interarticular or intravenous injection. Additional samples are frozen for future use.